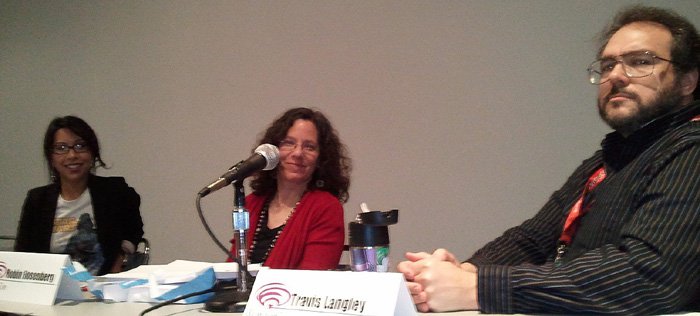 Comics Arts Conference 5:
Life After Trauma — To Be a Superhero or Supervillain?
Speaker/Artist(s) Info Andrea Letamendi, Robin Rosenberg, Travis Langley.
Did you ever wonder why experiencing trauma led Batman to become a hero but Harvey Dent to become a villain? Why Superman hasn't given up his Herculean task for good after being exposed to so much loss, stress, and destruction? What makes superheroes keep fighting without getting burnt out, disillusioned, or becoming villains? Join psychologists Andrea Letamendi (UC San Diego), Robin Rosenberg (Psychology of Superheroes), and Travis Langley (Henderson State University) as they address these questions, applying what we know about trauma in our world to the world of superheroes to better understand why the same types of events can lead some folks to heroism and others to villainy.
Newsarama coverage by Jill Pantozzi:
Experts Ask & Answer: Trauma – What Makes Heroes & Villains?
Graphic Novel Reporter coverage by Doré Ripley:
Happy Birthday, WonderCon – A Review of the Show.
Comics Arts Conference 6:
Understanding Superheroes
Speaker/Artist(s) Info: Dyfrig Jones, Travis Langley
About Dyfrig Jones (Bangor University) presents the current Creu Arwyr research project, funded by the Welsh government, in which the pupils of Ysgol Syr Huw Owen are working with artist Mike Collins (Freakhouse Graphics) to create new superheroes and write narratives for these characters based in the community around the school. Travis Langley (Henderson State University) takes a psychological look into the mind of the on-screen Batman.