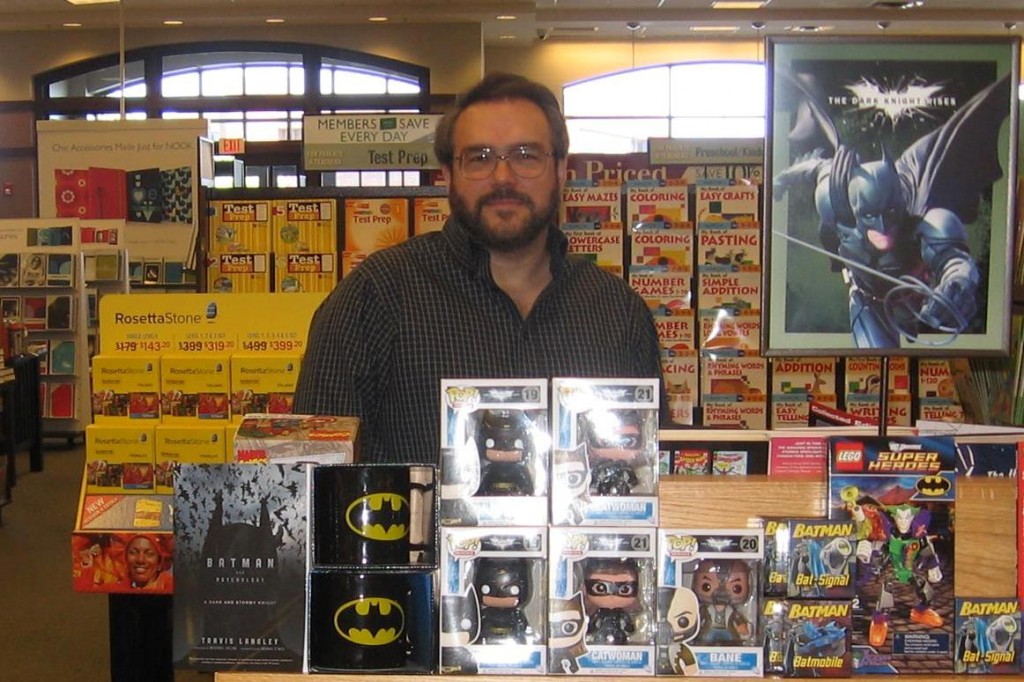 "…this book deserves the attention of both first time viewers, and long time Bat-fans who may have perused it in its initial offering. In this 75th anniversary year of the Batman character's birth, comic fans can enjoy a thought provoking analysis of one of the most enduring superheroes in history." – Art in Mad Lines
"Simply speaking, this is my pick for the best book of [the year]. A fantastic look into the inner workings of one of comic book's most compelling, dynamic characters; a masterfully written analysis/love note to the Dark Knight." – Stephen Harvey, FindYourGeek.com
"…scholarly and insightful…His professional credentials, mixed with his love for comic books and the character of Batman, create a fascinating, entertaining, and educational read." – Michael Uslan, Bat-Films executive producer (Batman, Batman Begins, The Dark Knight Rises, etc.)
"It is a terrific book." – Dennis O'Neil, Batman comic book writer/editor.
"This book is not only an ode to one of pop culture's most famous mythical figures but an analytical look at an intriguing character… An intriguing read and a fascinating book." – Robert Richardson, eXpert Comics
"If you ever wanted to really know if Bruce Wayne is nuts, then this is the book for you. Perhaps some incarnations of Batman are more crazy than others! Great read and tremendously insightful into the psyche of The Dark Knight. Also features a forward by Michael Uslan and an introduction by Denny O'Neil." – Bill "Jett" Ramey, Batman-on-Film.com
"Love Batman? Love psychology? You'll love this book. Author Travis Langley psychoanalyzes both the troubled superhero and his many enemies, asking questions like why Batman fights crime." – Sasha Graffagna, SuperheroYou
"If you love Batman you will love this book. If you love psychology you will love this book! Do not worry about getting lost though, as Langley does an excellent job explaining everything he discusses so those who have never taken a psychology course will understand. Not only will you get one of the most thorough run downs of Batman's history in all its mediums, you will walk away feeling like you've learned a thing or two about the human mind." – Crabacca, International House of Geek
"This is definitely a book you shouldn't pass up, as once you start reading it you simply will not be able to put it down!" – Sub-cultured.com
"…more entertaining than many of the others which populate the ever-growing field of texts about pop culture and the sciences. Rather than just telling us what we should know or think about Batman, the book supplements our own interest in the hero, and provokes us to think more about what's going on in his head." Brittany Frederick, StarPulse.com
"…Langley is extraordinarily well-versed in the lore and characters, and scrupulous about the questions he chooses to address… I got the feeling it would be fun to take one of Langley's classes." – Philip Martin, Arkansas Democrat-Gazette
"Dr. Langley puts this masked vigilante and his admirers on the analyst couch to examine what makes him—and us tick. A revealing look at Bruce Wayne and his alter-ego." – Barnes & Noble
"This book — diagnosing or debunking Batman's various alleged mental disorders — is the jam." – Craig Calcaterra of HardballTalk at NBC.
"It's pretty interesting, because if you love the Batman Universe then it's kinda fun. Also, if you have an interest in learning about real psychological analysis then those things are explained in great detail. I found the book to be both very entertaining AND educational." – Tom Sheridan, Bat-Blog
"Langley is heavily in depth with his exploration of Bruce/Batman. The book gives new Batman recruits a jest of who Batman is, his motivation, his foes, and allies… I find the book highly interesting because it explores the regions of Bruce/Batman that may explain unanswered questions. Also, it is nice ice breaker to leave on your coffee table or to show off during lunch time with colleagues or friends." –Dark Knight News
"Langley cleverly combines his two loves –as evinced by the title—to create a work that will draw the most disinterested psychology students in by using the seemingly universally loved Byronic hero of Batman.  Using concrete examples from the Batman universe(s), Langley explores Freud, Jung, Erikson, as well as Kubler-Ross' Stages of Grief and many other classic theories psychology principles, making it a helpful read for any struggling student of psychology." – Geekscape.net
"This is a serious book done by a true Batman Fan who also understands the real-life theories of Psychology…. It's pretty interesting, because if you love the Batman Universe then it's kinda fun. Also, if you have an interest in learning about real psychological analysis then those things are explained in great detail. I found the book to be both very entertaining AND educational." – Cool Cosplay
"What I found myself noticing most of all was the seamless blend of information and entertainment in this book, which was really nice to see because it almost turns into two separate books, depending on what you choose to focus on." – Corbin Twa's Bargain Basement Nerd Emporium
"What makes the book really shine, aside from its great content, is the way that content is presented. Langley's writing style is very natural and relaxed, and not stiff or stuffy. This allows for the various complex ideas to be expressed clearly and understandably…10/10"  – The Stuff of Legend
"Love Batman and Psychology." – Book Nerd Reviews
"Absolutely fascinating and fantastically geektastic." – Book Haul
"#4…This book perfectly balances fiction and non-fiction by using eighty years of Batman's postindustrial mythology as case studies for various psychological conditions." – IPN Top Ten Books
"this is good" – Craig Calcaterra of NBC
"Every angle of Batman/Bruce Wayne's life and psyche are covered in great detail in order for us to have a deeper understanding of who he is, why he does what he does, and whether or not he's crazy for doing it. I particularly enjoyed the case studies of the villains. This book adds a lot of depth to an already complex group of characters." Dustin Gaughran, GoodReads
"Love love love this book. So fascinating." – Allie, GoodReads
"Great information passed along in the form of Batman and his foes." – Alecia Gardner, GoodReads
"Grounded in solid psychology concepts but eminently readable…" – Interact Catalog.
"Whether you're interested in psychology or Batman, the book is marvelously informative and entertaining." – Dev Richards, NerdBastards.com
"A decently thorough and clearly written examination of Batman and the world he lives in. Well supported by many examples, hitting all the highlights of Batman's universe and his complex nature. Maintains a good balance between clinical and everyday language, keeping the material engaging while still completely accurate." (5/5 stars)  – Avi S, Shelfari.com
"Highly recommend checking that out!" – Christine, A Smattering of Intelligence
"This is one book also recommended for anyone who wants to bask in the afterglow of the movie, but also for anyone who is interested in the description of the psychology course." (translated from Japanese) – Akihito, ITMedia
"The author impresses in terms of how much work he clearly must have in each of the analyzes. He is obviously equally familiar with the Batman universe and with psychology, and it all becomes a riveting and interesting experience." (translated from Norwegian) – Julie Didriksen, Julie's Bokbabbel
"Seriously, it's like an awesome college course on something you already adore…. Don't you deserve a book like that?" – Jason Levin, Arousing Grammar
"For fans of superhero always eager to know behind the scenes, here is an original." (translated from French) – Coop Zone
"I wish that when I took my Film classes and a few Psych classes in college that they would have made us read this or even something similar as I feel it would have definitely lead to a lively discussion and would have caught the interest of most if not all the students. I do look forward to reading more books like this." – Rose Has Read That
"So if you want a primer on abnormal psychology that is not dry as dust, pick up Batman and Psychology. " – Suburban Fantasy
"This is probably the best academic analysis book on superheroes I've read and that's pretty high praise. Pick this up if you're interested in taking a deep and dark look into the mysteries of the Batman universe." – United Federation of Charles
"For a different look at forensic psychology, you can read Batman and Psychology: A Dark and Stormy Knight, a psychological profiling of the classic superhero. This book, written by forensic psychology professor Travis Langley, a well-known expert on the psychology of superheroes, demonstrates how a psychological profile can be built for anyone real or fictional." – ForensicPsychology.net
"I've always loved the Batman, but before reading this book I never considered the fact that dressing up like a bat every night was strange. But then again, normal people never really make a difference in the world." – R. Schultz, 10-Second Book Reviews
"If you love Batman, I really recommended this book." – Pannita
"If you're interested in Batman, psychology, or even inspirational books, I recommend this book. It's entertaining as well." – Knight Light
"Wow. This was…incredible…. Very well done! If I could give it more than 5 stars I would! Out of the little over 150 books I have read so far this year, this is hands-down my favorite read BY FAR." – Sunshine Rising Books 
"100%…. The book is great and I recommend it for anyone who is a little bit like Batman." – Kritiky
OTHER REMARKS:
"A modern classic…" Mark D. White, Batman and Philosophy
"Awesome book, and it's helping me psychologically prepare myself to wear the cowl." – Batcave Chronicles
"…fabulously interesting – and fun!" – A Minister's Musings
"…a fascinating book…which I warmly recommend." – Change is Constant
"…possibly the most fascinating book I've ever read."
– Chelsea Campbell (Renegade X)
"I love that book!" and "Thank you for writing it. Such a great way  to bring these concepts together. Brilliant!" – Chris Gore during WonderCon.